Wedding Backdrop Rental
The Importance of a Wedding Backdrop Rental
Your wedding is an important day in your life. Your wedding will be remembered by you and your guests for many years to come. However, your wedding incorporates such little things like the wine you serve or the flowers you pick. Just think, how much time was spent selecting florals for your event? It is the décor – the visual stimulant that determines the success of your special night.
Backdrop wedding rentals are the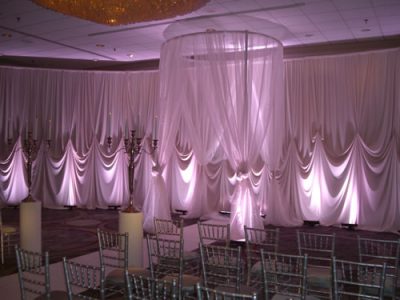 most important decor item added at any wedding that serves to really define the space for the wedding couple and the experience they wish to portray. The presence of wedding backdrop rental provides the most decorative and attractive panache to your wedding setting.
The wide selection of options available with wedding backdrop rentals ensures an added touch of magic to your memories and ultimately your pictures. Colored backdrop rentals are more common today for wedding receptions, but the classic white or ivory wedding backdrop is still the choice of many when it comes to defining the elegant palate from which the wedding or wedding reception will be remembered.
Getting the right wedding venue for your specific needs is complicated and expensive, but you can save quite a bit but contracting a less expensive venue and spend a little more "dressing it to the 9's" with the help of EP and our specialty wedding rentals. Whether in a tent, a hotel banquet room, country club, or back yard, specialty wedding rental items are the best options for upscaling your event without having to afford to price tag of a four star hotels banquet room.